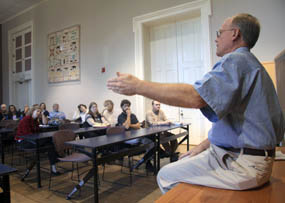 George F. Thompson addresses faculty members at the University of Mississippi.
(Photograph: David Wharton)
GUIDELINES FOR PREPARING A BOOK PROPOSAL
THE RELATIONSHIP BETWEEN PLACE AND PUBLISHING
Part One: Our Place in the World: From Butte to Your
Neck of the Woods
Part Two: Getting the Word Out through Books
Part Three: Field Notes: What Publishers and Authors Are Facing in the New Market Society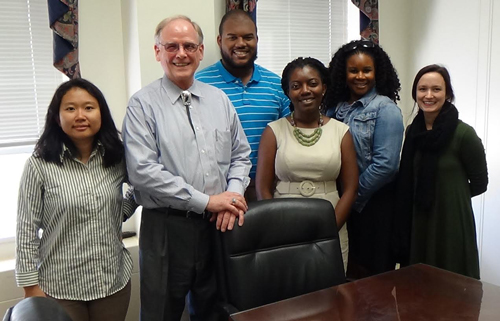 In February 2017, the Graduate School at the University of South Carolina brought George back to campus as part of his Publisher-in-Residence program, where he met with more than 100 graduate students, including those pictured with George: (left to right) Minjee Lee, George Thompson, Jaleel Johnson, Marian Botchway, Venice Hayes, and Maria Zubizaretta. Photograph by Heather Brandt, Associate Dean for Professional Development.
Faculty members who have worked with George at Alabama since 2011 have received book contracts from a wide range of presses, among them Bloomsbury, Brill, Cambridge University Press, Cornell University Press, Fordham University Press, Iberoamericana/Verveut, Indiana University Press, LSU Press, McGraw-Hill, New York University Press, Northern Illinois University Press, Oxford University Press, Palgrave Macmillan, Princeton University Press, Routledge, Springer Verlag, University of Alabama Press, University of Colorado Press, University of North Carolina Press, University of Pittsburgh Press, University Press of Kansas, and W. W. Norton.
(Photograph: Denise Kloster)
For decades the "publish or perish" mantra has been an integral part of college and university life, inasmuch as most faculty members' tenure, promotion, and merit pay are tied directly to the accomplishments a faculty member achieves in the publishing world. Yet few universities or colleges provide any professional help to their faculty regarding the publishing process, whether for books, portfolios, or journal articles. This is the equivalent of having a hospital without surgeons.
As a result, faculty members are left adrift as to what publishers are looking for, how to prepare a manuscript ready for external peer review and eventual publication, how to consider and integrate illustrations into materials, and how to navigate the process and work with a publisher. The lack of such professional advice usually results in under-developed and poorly prepared manuscripts and book proposals.
The Publisher-in-Residence program is designed to help remedy this situation in a friendly, helpful, and financially responsible way. Each program is customized to meet respective faculty, departmental, and institutional needs. Current and recent clients include:
Bowdoin College, Dean for Academic Affairs
CENTER, Photo Review Santa Fe
Towson University, Office of the Provost

University of Alabama in Tuscaloosa, College of Arts and Sciences

University of Baltimore, Office of the Provost
University of Colorado in Boulder, Department of Geography in partnership with the National Science Foundation and Association of American Geographers
University of Connecticut in Storrs, Department of Geography in partnership with the Association of American Geographers
University of Georgia in Athens, College of Environment and Design, and the Graduate School

University of North Carolina in Chapel Hill, Department of Geography

University of Mississippi in Oxford, Center for the Study of Southern Culture

University of South Carolina in Columbia, The Graduate School (Presidential Scholars and Fellows)
University of Texas in Austin, School of Architecture

For more information, download this PDF about the Publisher-in-Residence program.
On Friday, September 27, 2013, George was invited by Provost Timothy Chandler, of Towson University, to address the faculty, department chairs, and deans at Lecture Hall on the Towson campus north of Baltimore. The address was organized by Mary T. Casterline, Special Events Manager in the Office of the Provost, and recorded by Louis Vieira, Video Production Specialist in the Office of External Affairs at Towson.