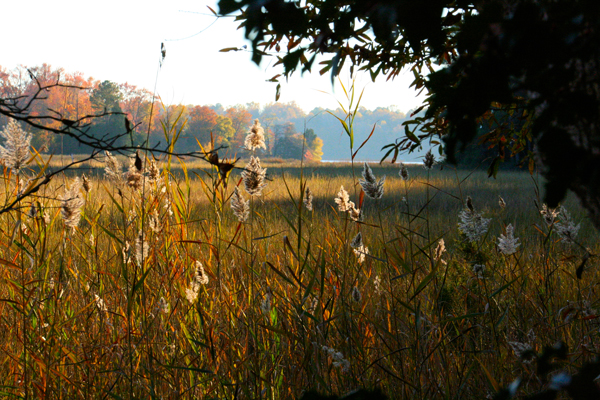 © Photograph M. Taylor

Paddling our canoe down the St. Mary's River during the early 1990s with my partner, Bob, I looked up at the hills overlooking the marsh and wondered aloud, "Wouldn't it be wonderful to live up there?" We had moved to St. Mary's County on the southern tip of Maryland's western shore when I accepted a position at St. Mary's College, and we were out exploring our new territory. In an extraordinary stroke of luck mixed with Bob's inspired real-estate negotiating and his carpentry talent, we were able, in spite of modest means, to purchase land and build a house right where we had focused our eyes so dreamily on that first trip down the river.

For more than twenty-five years we have looked out over the Western Branch, a brackish tributary of the St. Mary's, as it winds through the marsh, rising and falling with the tide, and have been treated to daily views of an amazing range of flora and fauna. The birds common to our "front yard" include eagles, osprey, egrets, green and great blue herons, Canada geese, a variety of ducks, turkeys who nest in our pines, hawks and owls who harass our chickens, and the ubiquitous cardinals, robins, and a wonderful variety of song birds. Deer often wander into the marsh to take a drink, and sometimes we spot beavers, muskrats, otters, and nutria in the water. The deer, raccoons, squirrels, rabbits, foxes, and skunks are more often seen and/or heard in our "backyard," and a garden surrounded by a high fence is a necessity here if you want to eat some of your own crops.

I never tire of watching the change in light and color as the seasons in the marsh come and go and the days shorten and lengthen. The blooming rose mallow in mid-summer and fall colors in the hickories, oaks, and ash among the pines and holly are favorites. I am aware that the marsh, along with all its feathered, furred, finned, and leafed inhabitants, is threatened here, as elsewhere, by climate change, and I have solemnly promised myself never to take for granted my great good fortune to be in this place at this time.