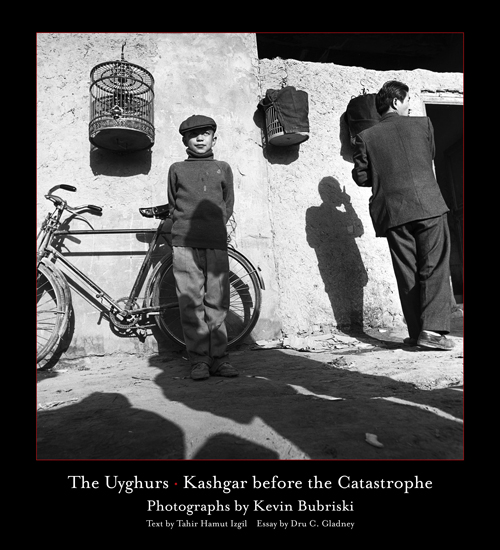 The Uyghurs: Kashgar before the Catastrophe
by Kevin Bubriski
with text and poems by Tahir Hamut Izgil and an essay by Dru C. Gladney
An unforgettable portrait of the Uyghurs and of the ancient Silk Road city of Kashgar before the Chinese government's decimation of religion, language, culture, and personal freedom.
Nominated for a Pulitzer Prize in Nonfiction.

In 1998, Kevin Bubriski was fortunate to spend time with the Uyghurs in Kashgar, their ancient city on the old Silk Road in the Xinjiang region of China. While there, he made unforgettable photographic portraits and street scenes that reveal a haunting beauty and sense of the city's deep past. Bubriski was drawn to the faces of ordinary people and their daily lives, with the intent that through photographs mutual understanding between people might be fostered.
Although 1998 was an uncomfortable time of rapid transformation for the Uyghurs, their oasis city in the high desert was still vibrant, even as the Chinese government's brutal crackdown on religion, language, culture, and personal freedom in Xinjiang was about to commence. In the last few years, Chinese state authorities led by Xi Jinping have investigated at least 4.7 million people and up to a million Uyghurs have been detained in "re-education camps" while others have been subjected to forced sterilizations, forced labor, and family separations. The vibrancy, beauty, and grit of Kashgar and its people that Bubriski witnessed and photographed more than two decades ago has irrevocably changed, making his images all the more significant.
The Uyghur cultural, economic, familial, religious, and spiritual traditions are captured in Bubriski's images, and the incisive prose and poetry from Kashgar poet and activist Tahir Hamut Izgil and a historical essay by the late Dru Gladney add depth and understanding to the Uyghurs' plight. Longstanding religious and cultural traditions, interwoven in Uyghurs' lives and community for more than two millennia, have been severely impacted by the overt and disastrous policies of the Chinese government's colonization of Uyghur civil, religious, and cultural life. The Uyghur community, a group of around 12 million, is now fractured and split due to widespread surveillance, mass detentions, and incarcerations. Downloading the Qur'an can be grounds for interrogation.
Since innumerable Uyghur families are now separated due to mass detentions, forced labor, residential schools, and flight to asylum elsewhere, The Uyghurs is an enduring gift for the Uyghur people and those who wish to understand better Uyghur culture and history. The book is also presented in a bilingual edition so that it is accessible to Uyghur people living in non-English-speaking regions of the world, offering a way for Uyghurs around the world to reaffirm their cultural and social identity wherever they now live. Bubriski's book is a stunning work of art and conscience that reveals a time when Kashgar, beloved city of the Uyghurs, retained much of its traditional life and charm.
$60.00 U.S. (trade discount) E-book TBD.
Hardcover
248 pages with 126 photographs by the author and 4 historic maps = 130
10.875" x 12" portrait/upright
ISBN: 978-1-938086-99-1
Published in August 2023
Distributed by Casemate/IPM


www.casemateipm.com
E-book TBD.
Published in association with the Scanlan Family
Foundation, Henry Luce Foundation, Furthermore,
a program of the J. M. Kaplan Fund,
and Center for the Study of Place

About the Author and Essayists
Listen to NPR's "Waiting to Be Arrested" with poet Tahir Hamut Izgil (8/2023)
Publishers Weekly has listed The Uyghurs as one of the top 10 Art, Architecture & Photography books coming out in 2023!

Thursday, October 26, 2023 at 5pm
Artist Talk
The Research & Development Store, MASS MoCA
Thursday, October 5, 2023 from 4:30 pm to 6 pm
Artist Talk
Visual Arts Center, Bowdoin College Museum of Art,
Brunswick, ME
(read an article about the artist talk)