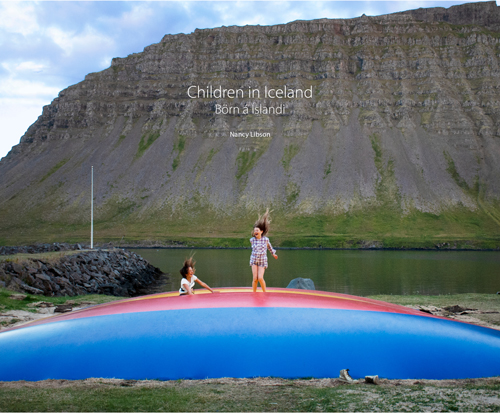 Children in Iceland
by Nancy Libson


An intimate and evocative photographic portrayal of children and childhood in rural Iceland.

Iceland is best known for its stunning scenery and majestic landscapes. When photographer Nancy Libson first visited Iceland for a hiking trip some twenty years ago, she immediately fell in love with the country and its dramatic natural landscapes. She vowed to return again, camera in hand, to capture the beauty of Iceland. Beginning in 2015, Libson did just that, revisiting Iceland over four more summers to photograph the land and its people. Though initially attracted by Iceland's unique landscapes, Libson also became drawn to the Icelandic people, particularly those in rural areas whose daily lives were surrounded by Iceland's wild and wondrous landscapes.

She started out curious to get to know and capture in her photographs the people who live within the rural communities of this unique landscape. As she continued to visit Iceland through multiple summers, her focus was drawn in particular to making pictures of Iceland's children and their unique childhoods among this remote and beautiful land. As Libson photographed Iceland and its inhabitants, she sought to understand and capture the impact of Iceland's remoteness and beauty on those who lived in its rural areas, especially the children who grew up there. Their unique childhoods, among small villages and rural communities, where they experience an unusual level of freedom while living in close-knit families and communities, became Libson's focus as she continued to visit and get to know Iceland.

As collected in Children in Iceland, Libson's photographs of children and families in rural Iceland provide an intimate, evocative window into the lives of Iceland's children among their homes and communities. It provides a unique vision not only of the children and their lives, but also into their remarkable home country where the spirit of childhood flourishes.
$40.00 U.S. (trade discount)

No e-book has been authorized.


Hardcover
96 pages with 47 color photographs by the author
11.0" x 9.0"
ISBN 978–1–938086–52–6



Forthcoming November 2023

Distributed by Casemate/IPM


www.casemateipm.com
No e-book has been authorized.
Published in association with the Center for the Study of Place.

Book Events and Exhibitions
TBA