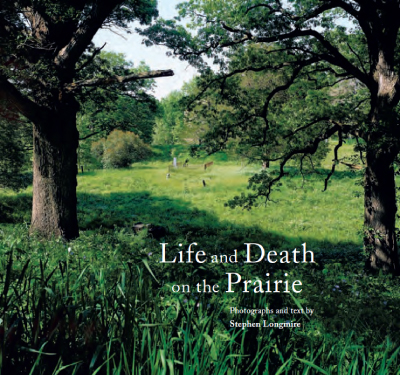 Life and Death on the Prairie
Photographs and text by Stephen Longmire
with an afterword by Aaron Woolf and a botanical flora by Diana Horton


Iowa's Rochester Cemetery is one of the most unusual and biodiverse prairies left in America, boasting more than 400 species of plants—337 of them native to the region—on its thirteen-and-a-half acres. Among them are fifteen massive white oaks that stood watch as the surrounding landscape was converted into farmland by Euro-American settlers starting in the early 1830s. The cemetery is the last resting place of these pioneers and their descendants, up to the present. Graves and wildflowers are scattered across hills that geologists consider sand dunes. These are held in place by the deep roots of the plants and their people.

Pioneer cemeteries have been recognized as important prairie remnants and seed banks ever since Aldo Leopold, another Iowa native, called attention to them in his landmark essays of the 1940s, as he developed the art and science of ecological restoration. The drama of the prairie's survival continues to this day at Rochester Cemetery in a controversy that flares up as reliably as spring's shooting stars.To botanists across the country, it has become a pilgrimage site. To local residents, it is either a source of pride or a shameful weed lot, and some feel regular mowing would show more respect for the dead. To the photographer and writer Stephen Longmire, it is a place where the stories of the rural Midwest are written on the land—a long exposure, extending back to the days when Meskwaki Indians camped nearby and wildfire held back the forest.

In the creative tension between people and place, Rochester's prairie holds its native ground. Meanwhile, historic cemetery plantings grow wild among wildflowers, and bright plastic flowers decorate modern graves. In compelling photographs and stimulating prose, Longmire shows why this special patch of original Iowa prairie is a living record of all the land's uses since its settlement.
$40.00 U.S. (trade discount)

No e-book has been authorized.


Hardcover with jacket


160 pages with 76 color photographs by the author, 4 historic photographs, 2 color paintings by Grant Wood, 1 color painting by Marvin Cain, 1 hand-colored historic lithograph, and 3 color maps

9.5" x 9.0" horizontal/landscape
ISBN: 978-0-9834978-0-6

Distributed by the University of Wisconsin Press

www.uwpress.wisc.edu
No e-book has been authorized.
Stephen Longmire Photography
www.stephenlongmire.com
About the Author and Essayists

December 9, 2011
Prairie Lights Bookstore in Iowa City, Iowa
www.prairielights.com
Slide Show and book signing by the author
December 10, 2011
Old Capitol Museum at the University of Iowa in Iowa City www.uiowa.edu/oldcap
Exhibition tour and book signing by the author

September 2―December 10, 2011
University of Iowa's Old Capitol Museum
September 24―December 12, 2010
Grinnell College's Faulconer Gallery