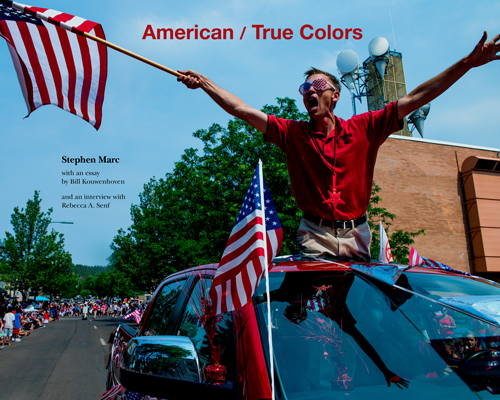 American/True Colors
by Stephen Marc
with an introduction by Bill Kouwenhoven and an interview with the artist by Rebecca A. Senf
Co-published with Stephen Marc in association with the Center for the Study of Place.
A grand new look at America in 2020 and how its population is changing!
Finalist for both best art book and best multicultural book of the year from the 2021 New Mexico-Arizona Book Awards.
Winner of the 2021 Gold IPPY (Independent Publishers Book Award) for Best Book of the Year in the Photography category.
From 2007 to 2020, spanning the presidencies of Barack Obama and Donald Trump, noted photographer Stephen Marc traveled throughout America in search of its people. He went to parades and protests, memorials and celebrations, rallies and rodeos, amusement parks and festivities, historic sites and city streets to see America as it is: multi-colored, multi-cultural, multi-racial, gender rich, and more diverse and urban than ever before in the nation's history. Behind each of the book's 250 compelling images is a patriotic reminder of America's robustness and promise and ongoing struggles with race and socio-economic issues as it seeks to become, as Abraham Lincoln declared in 1862, "a more perfect union."
Stephen Marc's American/True Colors complements other significant photographic surveys of modern America: from Walker Evans, Dorothea Lange, Gordon Parks, Robert Frank, and Henri Cartier-Bresson to Garry Winogrand, Lee Friedlander, Mary Ellen Mark, Eli Reed, Bruce Davidson, Zoe Strauss, Leonard Freed, Vivian Maier, and others. But no photographer has so fully looked at America, from coast to coast, as has Stephen Marc with his unique African-American perspective.
American/True Colors is further enriched by a long interview with the artist by Rebecca A. Senf, Norton Family Curator of Photography at the Center for Creative Photography, and by a Jack Kerouac-like introductory essay by writer/critic Bill Kouwenhoven, who concludes: "Stephen Marc's vision leaves me breathless, and his eyes, as represented by his kaleidoscopic images, are vibrant testimony to the love he feels for our contradictory and self-contradicting land, one that too often seems at war with itself over the very shape of these United States."
$49.95 U.S. (trade discount)
Hardcover (PLC)
336 pages with 250 color photographs and 5 color composite photographs by the author
11.0" x 9.0" landscape
ISBN 978–1–938086–78–6
Published December 2020
Distributed by Casemate/IPM


www.casemateipm.com


November 4, 2022 at 6p.m.
Artist and Book Talk
October 21 - November 19, 2022
An American Journey Continues (Solo Exhibition)
Northlight Gallery, Phoenix, AZ
May 19, 2021 at 6pm
Online conversation between ICP's Managing Director of Programs David Campany and Stephen Marc
International Center of Photography (ICP) (rsvp here)
Interview with Marc and Picture This Post (2021)