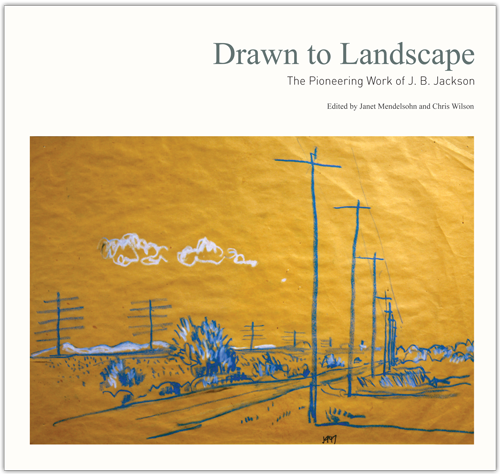 Drawn to Landscape: The Pioneering Work of J. B. Jackson
edited by Janet Mendelsohn and Chris Wilson
with drawings, watercolors, and photographs by J. B. Jackson
and essays and contributions by Chris Wilson, Janet Mendelsohn,
F. Douglas Adams, Bob Calo, Timothy Davis, Miguel Gandert, Peter Goin,
Paul Groth, Helen Lefkowitz Horowitz, and Paul F. Starrs
A landmark book and DVD about J. B. Jackson and landscape studies.
J. B. (John Brinckerhoff) Jackson founded, edited, and published Landscape from 1951–1969, a magazine that changed the way everyone—including writers and scholars, planners and designers, artists and the general public—came to understand and interpret the everyday places that surround us and influence us in fundamental ways. Then, through his distinguished teaching career at Harvard University and the University of California, Berkeley, and through his expansive array of seminal essays and influential books, Jackson further pioneered the advancement of "landscape studies," whose connections today extend to more than a dozen academic, artistic, and professional fields.
Drawn to Landscape is the first book to present fully the many aspects of Jackson's career. Including original essays by those who not only knew Jackson well, but also have carried his torch to new heights in their own work, the book sheds valuable light on Jackson's life, oeuvre, influences, and many legacies. Also included are 126 color illustrations and twenty-eight black-and-white illustrations, among them 117 of Jackson's original drawings, watercolors, and teaching slides.
J. B. Jackson redefined landscape not as scenery but as the historical record of human interactions with the environment, whether urban, rural, suburban, social, or wild. He taught us to pay attention to the often overlooked but defining features of our everyday world, whose varied landscapes are created by ordinary people going about their day-to-day lives. And he guided us, from the first issue of Landscape to his last lecture and publication, to look at the landscape like one reads a book. As he proclaimed, "We have but to learn how to read it." This book helps show us the way.
288 pages
126 color and 28 black-and-white illustrations,
among them 117 original drawings, watercolors,
and photographs by J. B. Jackson

Limited hardcover edition:
ISBN 978–1–938086–35–9
$75.00 (includes DVD) (short discount)

Softcover edition with flaps:
ISBN 978–1–938086–37–6
$35.00 U.S. (short discount)

Forthcoming in November 2015

Distributed by the University of Virginia Press


books.upress.edu
To purchase the DVD, contact Documentary Educational Resources: www.der.org.


October 15–17, 2015
PhotoPaysage / LandscapeRepresentation Conference, Albuquerque, New Mexico

Coming soon