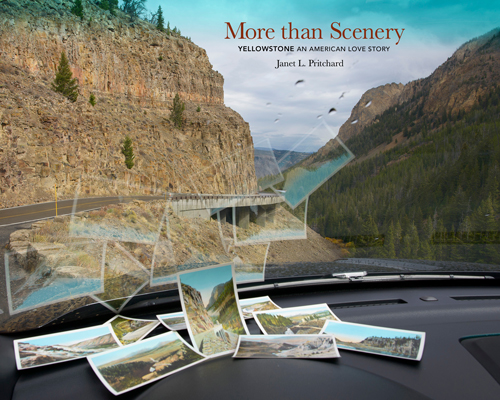 Hardcover/PLC
$45.00 U.S. (trade discount)
244 pages with 162 color and 4 black-and-white photographs by the author, 4 color maps, and 1 color historic postcard = 171
11.875" x 9.5" landscape
ISBN: 978–1–938086–95–3
Forthcoming in October 2022
Distributed by Casemate IPM


www.casemateipm.com


TBA
More than Scenery: Yellowstone, an American Love Story
by Janet L. Pritchard
with a foreword by Lucy R. Lippard

Published in association with the Center for the Study of Place.


A uniquely fresh and comprehensive look at Yellowstone National Park on its 150th anniversary and the Greater Yellowstone Ecosystem.


Janet Pritchard's romance with the American West began with horseback riding, movies, and her father's dreams of being a cowboy. When she started to spend adolescent summers in Wyoming during the 1960s, her world changed forever, as she fell under the spell of natural wonder in the shadow of the Grand Tetons. Only later did she recognize her feelings as a response to what nineteenth-century Romantics called the sublime.

A vintage 1916 picture postcard of Golden Gate Canyon by F. Jay Haynes inspired this project. When Pritchard turned it over and read the message—"I cannot describe the Yellowstone as the dictionary is only a book. It is more than scenery. In some places, it is so beautiful that the men take off their hats & the women are silent!"—she was back in a childhood place of wonder tempered by a lifetime of work as an artist and teacher in landscape photography.

Formed by fire and ice, embraced by a nation seeking an ancient past with a future as grand as the landscapes it inhabited, Yellowstone was established as the world's first national park by an Act of Congress in 1872. One hundred fifty years later, the park and the Greater Yellowstone Ecosystem continue to occupy an iconic role in the public imagination of Yellowstone as a place that is both real and ideal. Here, in this complex ecosystem where wild nature and culture meet, the complexities of our relationship to the natural world are revealed, unlike any other national park.

Yellowstone is truly unique, and each generation of visitors invests Yellowstone with ideas, beliefs, and values reflecting its historical moment. In More than Scenery: Yellowstone, an American Love Story, Janet Pritchard surveys these relationships with her captivating photographs and insightful text, and Lucy R. Lippard sets the table with her heartfelt introduction to the world's romance with Yellowstone. This book shows why Yellowstone is so important to America and the world and how its landscapes reveal more than beautiful scenery.