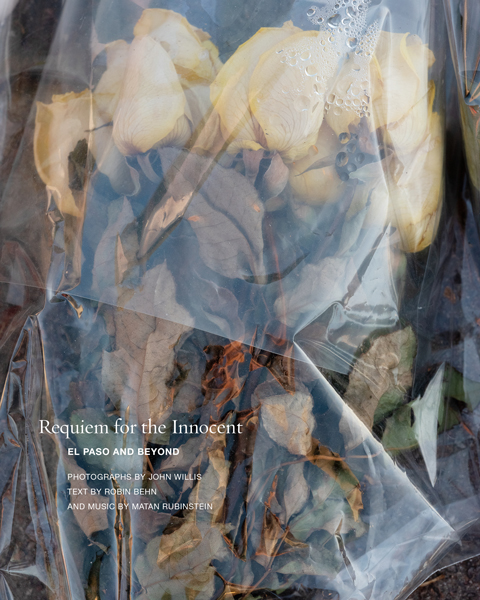 Requiem for the Innocent: El Paso and Beyond
Photographs by John Willis, text by Robin Behn,
and music by Matan Rubinstein
A provocative and somber tribute to those who lost their lives and were injured in the mass shooting in El Paso.
On Saturday morning, August 3, 2019, a twenty-one-year-old self-declared white supremacist from Allen, Texas, targeted "Mexicans" in a hate crime and shot and killed twenty-three people at the Cielo Vista Walmart (Supercenter #512) in El Paso. Among the dead were fourteen Americans, eight Mexicans from nearby Ciudad Juarez, and one German. Another twenty-six were injured. It was the seventh-deadliest mass shooting in the United States since 1949 and the deadliest attack on Hispanic and Latina/o Americans in U.S. history.
This book and the traveling exhibition and performances that accompany it are meant to honor the memory of the twenty-three innocent souls who lost their lives and to be mindful of the twenty-six others who were injured. The book, exhibition, and performances also honor and remind us of the countless others who have suffered—and continue to suffer—from hate and violence in any form, including those murdered and affected by mass shootings in Annapolis, Atlanta, Austin, Blacksburg, Boulder, Buffalo, Charleston, Chesapeake, Colorado Springs, Columbine, Dayton, Fort Hood, Half Moon Bay, Highland Park, Indianapolis, Knoxville, Las Vegas, Midland/Odessa, Milwaukee, Monterrey Park, Newtown, Orlando, Parkland, Pittsburgh, Pontiac, Sacramento, Springfield, Uvalde, and Virginia Beach in the U.S.A. and Port Arthur in Tasmania, Paris in France, Oslo and Utøya in Norway, Christchurch in New Zealand, Korat in Thailand, Hanau in Germany, Nova Scotia in Canada, and too many other places to list.
Requiem for the Innocent: El Paso and Beyond is a creative collaboration between photographer John Willis, poet Robin Behn, and musician Matan Rubinstein. The work of choreographer Shannon Hummel will also be featured in the traveling exhibition. All royalties earned from the sale of the book are being donated to the families of those who died and were injured on that fateful day in El Paso.
The film Requiems: El Paso and Beyond (based on the book Requiem for the Innocent) won Best Message and Best Writing at the 2022 Top Indie Film Awards (Winter Edition)
Read a letter from the Mayor of El Paso, Texas to Willis, Behn, and Rubinstein.
$25.00 U.S. (short [25%], but special (trade) discounts are available for nonreturnable bulk purchases)
Paperback with gatefold flaps
68 pages with 25 color photos by John Willis
8.0" x 10.0" upright/portrait
ISBN 978–1–938086–79–3
Published September 2020
Distributed by Casemate/IPM


www.casemateipm.com
Published in association with the Center for the Study of Place.


September 4 - October 17, 2020
John Willis, Robin Behn, Matan Rubinstein:
Requiem for the Innocent
Gallery Kayafas, Boston, MA
Friday, October 9 and Saturday, October 10
Reception and artists' talk
Call 617-482-0411 or email to reserve your spot!

Watch a video of photographs from the book created by Willis, Behn, and Rubinstein.