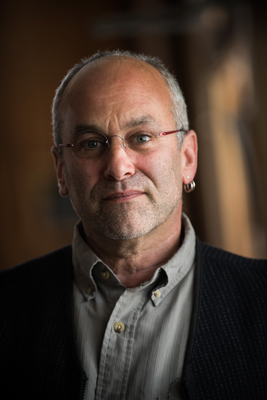 (Photograph: Kelly Fletcher)
John Willis was born in 1957 in Stamford, Connecticut. He received his M.F.A. in photography from the Rhode Island School of Design in 1986. He is currently a professor at Marlboro College and co-founder of the In-Sight Photography Project and the Exposures cross-cultural youth photography program, which offers courses to southern Vermont's youth, regardless of their ability to pay. He has been awarded a John Simon Guggenheim Memorial Foundation Fellowship in Photography, five Artist Fellowships from the Vermont Council on the Arts, and two from the Vermont Arts Endowment Fund. His work is included in numerous permanent collections, including the Whitney Museum of American Art, Museum of Fine Arts in Boston, and Museum of Fine Arts in Houston. His photographic work has been exhibited nationally and internationally, and it has appeared in various publications, including LensWork, Orion magazine, and Flesh and Blood, Photographers and Their Families published by The Picture Project. He resides in Dummerston, Vermont.
Tom Young was born in 1951 in Boston, Massachusetts. He received his M.F.A. in photography from the Rhode Island School of Design in 1977. He is currently a professor of art, emeritus, at Greenfield Community College in Greenfield, Massachusetts. He has been awarded an Artist Fellowship from the National Endowment for the Arts and four Artist Fellowships from the Massachusetts Cultural Council. His work is included in numerous permanent collections, including the Museum of Fine Arts in Boston, Polaroid International Collection in Offenbach, Germany, and Harvard University's Fogg Museum. Young's work has been exhibited internationally, including the International Center of Photography in New York City, the Frans Hals Museum in Harlem, The Netherlands, the Kunsthalle in Hamburg, Germany, and the National Museum of Fine Arts at the Smithsonian Institution in Washington, DC. In addition to Recycled Realities, he is the author of Timeline: Learning to See with My Eyes Closed (George F. Thompson Publishing, 2012). His photographs have also appeared in a number of publications, including Artworks: Tom Young (Williams College Museum of Art), American Perspectives (Tokyo Museum of Photography), Goodbye to Apple Pie (DeCordova Museum, Lincoln, Massachusetts), and 2 to Tango: Collaboration in Recent American Photography (International Center of Photography). He resides in Buckland, Massachusetts.
Martha A. Sandweiss is a professor of history at Princeton University. Previously, she was professor of American studies and history at Amherst College and the curator of photographs at the Amon Carter Museum in Fort Worth, Texas. She is the author of numerous award-winning books, including Passing Strange: A Gilded Age Tale of Love and Deception Across the Color Line (Penguin, 2009), Print the Legend: Photography in the American West (Yale, 2002) and Laura Gilpin: An Enduring Grace (Amon Carter Museum, 1986), co-author of Eyewitness to War: Prints and Daguerreotypes of the Mexican War, 1846–1848 (Smithsonian Institution Press, 1989), editor of Photography in Nineteenth-Century America (Abrams, 1991), and co-editor of The Oxford History of the American West (Oxford, 1994). She has served on the governing boards of the American Antiquarian Society, Center for American Places, and Organization of American Historians and has received fellowships from the American Council of Learned Societies, Beinecke Library at Yale University, National Endowment for the Humanities, and Rockefeller Foundation.